A Girl Like That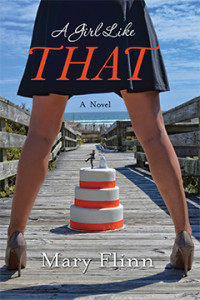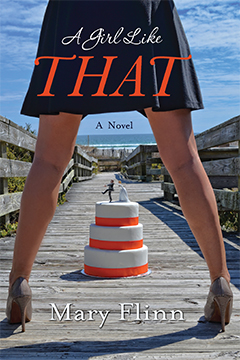 You love her or you hate her. Or you love to hate her. Notorious mean girl Elle McLarin desperately needs to reinvent herself. Growing up with her grandparents in their small North Carolina mountain community after her teenage mother, who named her for a fashion magazine, ditched the idea of motherhood and disappeared, Elle found her upbringing to be tougher than most. Add to that a near-tragic mistake—drugging high school hunk Kyle Davis at a party, which landed her in prison for a year—and Elle has long since paid her debt to society. Nineteen years after being dubbed Badass Barbie in high school, and with her grandparents now passed away and her son joining the Army, Elle is ready to pull up her bootstraps—and her roots—and go where no one will know her, or what she did.
In coastal Wilmington, Elle opens a bakery with the proceeds from selling her grandmother's cabin. Hoping to turn her life around, she still struggles with her constant Good Elle/Bad Elle inner dialogue. But Elle's electric and budding new relationships help her to move outside of her head to see the possibilities that surround her. Then a remarkable event brings Elle into the limelight, causing a jealous bystander to uncover Elle's sordid past, threatening to expose her and drag her under once more.
Readers of Mary Flinn's Kyle and Chelsea series, which began with The One, will be delighted to see Elle resurface in this stand-alone novel that makes us realize everyone has his—or her—own side of the story.
---
Reviews
NC Novelist Flinn's Bad Girl Elle McClarin Takes the Cake in New Tell-All Story
February 2015
Elle McLarin, known as "Badass Barbie" to her detractors, is the kind of girl whom readers just love to hate—at least she was until now. Mary Flinn introduced Elle in the first book of her Kyle and Chelsea series, The One, where Elle made an unforgettable debut as a high school senior so infatuated with Kyle that she gave him a roofie at a party to try to loosen him up so he'd have sex with her. That plan backfired—really backfired. When the party was raided by the cops, Kyle was found unconscious with his pants down. Elle ended up serving a prison term, during which time, she gave birth to her first child—out of wedlock, of course. Since then, Elle has dwelled on the margin of the Kyle and Chelsea series, occasionally being mentioned or making cameo appearances, but never having a chance to tell her own story.
Until now—and what a story it turns out to be! In A Girl Like That, we find out about Elle's dysfunctional childhood, what led to her mistake with Kyle, and her attempts since then to redeem herself. And who would have guessed that this bad girl would turn out to be Mary Flinn's most loveable character?
This new book is told from Elle's point of view and begins nineteen years after Elle's incident with Kyle. Elle's grandmother has just died and Elle's now eighteen-year-old son, Joey, has joined the Army, leaving Elle on her own and free finally to escape the mountain community where she has long been the talk of the town. Elle sells her grandmother's cabin and heads for Wilmington, North Carolina, to reinvent herself by operating her own bakery. There she starts to make new friends, become a successful businesswoman, and try to forget the past, but her bad girl side still needs to be repressed now and then.
When Elle meets her gorgeous neighbor, Nate, she knows better than to get involved with him, especially since he's so hot he could be Kyle's hotter twin. But a chain of events is soon unleashed that finds Elle not only involved with Nate, but enmeshed in a string of strange relationships and circumstances that will change her life forever.
Flinn is at her finest in this novel, from depicting the irony of a heroine who has never married or found true love but spends her days baking and decorating wedding cakes, to the way she uses leitmotifs throughout the novel, such as Elle's aversion for the color orange because it reminds her of her prison clothing. The supporting cast of characters includes a loveable elderly gardener, Elle's costume designer landlord, a winery owner and his overly talkative fiancée, a handyman with a secret, the twenty-something bakery staff, the father of Elle's son and his hateful family, a bitchy reporter who comes to cover Elle's bakery's grand opening, and a young boy desperately in need of Elle's help. Their lives all weave together into Elle's in a way that could rival any Dickens' plot, and each plays his or her role in helping or hindering Elle in her pursuit of happiness, which can only be achieved when she learns to forgive herself for the past.
It's been a long time since I laughed so hard or felt so deeply for the main character when reading a novel, which shows Flinn is at the top of her form. Several years ago, this North Carolina author set out to write a romance novel. Today, with several books under her belt, she has proven herself to be one of the finest writers of realistic fiction alive today. Don't miss A Girl Like That. I guarantee you'll not only like it—you'll love it!
— Tyler R. Tichelaar, Ph.D., and award-winning author of The Best Place and Melusine's Gift
---

KIRKUS REVIEW
A breezy romance about a single mother who tries to reinvent herself after her young-adult son leaves the nest.
Flinn (The Nest, 2015, etc.) has created a memorable, multidimensional heroine in Elle McLarin, a lonely middle-aged woman stuck in small-town North Carolina, where she can't escape her criminal past. During her teenage years, Elle spent 12 months in prison as punishment for slipping her high school crush a roofie and taking advantage of him. She was pregnant with another man's child at the start of her incarceration, and by the time of her release, she had an infant son and a scandalous reputation that she couldn't live down. As the book opens, her son has turned 18 and left for the Army. Elle, now 37 years old, is finally able to leave town and start fresh. She drives across the state and settles on the North Carolina coast, where she opens a bakery and begins making new friends for the first time in nearly two decades. It's not long, however, before her past catches up with her. After she finally begins to enjoy her new successes and even explore a relationship with her handsome neighbor, an odd sequence of events lands her in the spotlight on national news. Her new beau, Nate, learns all about the inglorious woman she used to be, and she worries that their budding relationship won't survive. The strengths of this engaging, plot-heavy page-turner are in its character development of Elle and the perfect pitch of its narrative voice. Flinn depicts Elle as a complicated woman with constantly conflicting emotions. As the first-person narrator, she's initially quite unlikable but gradually reveals that beneath her seemingly uneducated persona is an intelligent, pragmatic, and bighearted woman who's worked hard to improve herself. Readers won't be able to help rooting for her to find happiness as the story winds its way to its conclusion.
An uplifting tale of love and redemption that's perfect for fans of stories of rehabilitated youth and second chances.